Hits: 809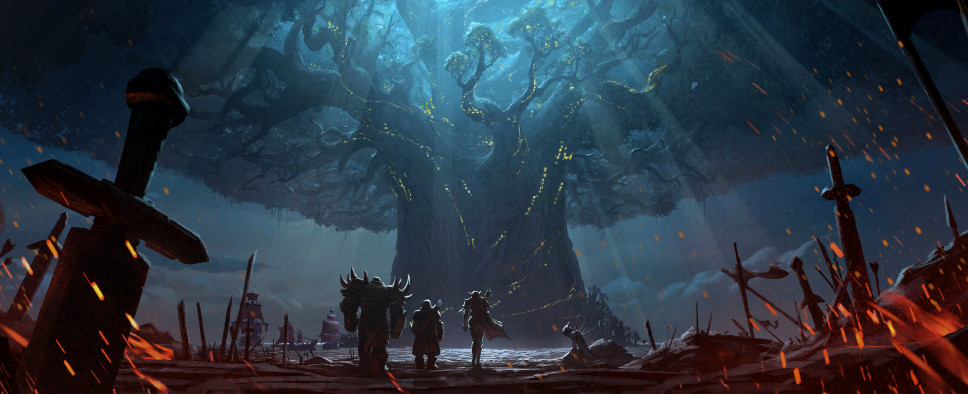 World of Warcraft's upcoming Battle for Azeroth expansion will introduce plenty of changes to how Blizzard Entertainment's flagship MMO handles PvP content. Most importantly, the game will move away from its previous PvE and PvP server dichotomy and add the so-called War Mode instead. This new mode will allow the developers to focus on delivering a satisfying world PvP experience complete with bounties, special loot, and an added risk-reward layer.

On top of that, the game's PvP talents and Honor levels will receive major overhauls, while the Dueler's Guild will offer you even more PvP opportunities. You can read all about these changes in this article on the game's website. An excerpt:
WAR MODE—ARE YOU IN?

We're introducing a new way of getting into PvP out in the world with a system we're calling War Mode. War Mode tears down boundaries and server rule-set distinctions, allowing players on any realm to decide when they want to jump into a world PvP experience full of like-minded players in the ongoing battle between Horde and Alliance.

This new system gives us the opportunity to revisit World of Warcraft PvP as an open-world experience, building on the latest game technology available. Players can decide on the type of gameplay experience they want to have no matter their realm of choice. Whether that means opting out of world PvP entirely, gathering allies and venturing out into dangerous lands when the mood strikes you, or turning on War Mode and never looking back—the choice will be yours.

With War Mode, we wanted to solve the problem of some players feeling "locked" into one play style or another by their realm choice. They might have picked a PvE realm purely because their friends were there, even though they were interested in open world PvP. Conversely, they could have chosen a PvP realm to start, but later decided it wasn't for them anymore. War Mode provides a way for both styles of gameplay to co-exist for every player—and with the way realm sharding works now, we felt this was the right opportunity to let players choose.

By toggling War Mode on, players will venture out into a world full of others who have made the same choice. This structure also provides a foundation upon which we can offer all-new systems to encourage and reward world PvP, open to all interested players regardless of their choice of realm.

Players who choose to turn on War Mode will get a few additional bonuses while in the mode. First, while War Mode is on, all PvP talents you've chosen will be available to use anywhere PvP can occur, providing a more consistent and efficient experience as you level. Rather than having your PvP talents toggle on and off depending on your location in the world or whether you're engaged with a creature or another player, you'll have access to them everywhere PvP can happen. Sanctuary areas will still be PvP free.

Players in War Mode will also get an additional bonus to experience gains while leveling up. We understand that when players choose to engage in PvP, the added danger from other players can result in a slight loss in leveling efficiency. We wanted to provide a way to balance this out without creating a situation in which players who choose not to engage in War Mode feel they're losing out on an opportunity. For the same reason, at max level, War Mode also offers an additional bonus to gold, Resources, and Artifact Power earned from World Quests.

War Mode can be toggled on or off beginning at level 20 by visiting either Orgrimmar or Stormwind and setting their preference in the Talent pane (N). Beware! Once you venture out in War Mode, all zones will become contested, including zones such as Northshire Abbey. Additional War Mode features such as Bounty Hunter and Air Drops (more on those below!) will only be available in the new zones in Battle for Azeroth.

There are a few additional caveats when looking at grouping while in War Mode. If you're taking part in dungeons or raids while you have it turned on, you will still be able to be summoned by players who do not have it on. Once summoned, you won't be able to see each other until you have zoned into the instance. When using the Premade Group Finder to search for groups for outdoor activities such as questing or world bosses, you will only see groups containing players who also have War Mode on, unless you return to Orgrimmar or Stormwind to change your status.