Hits: 761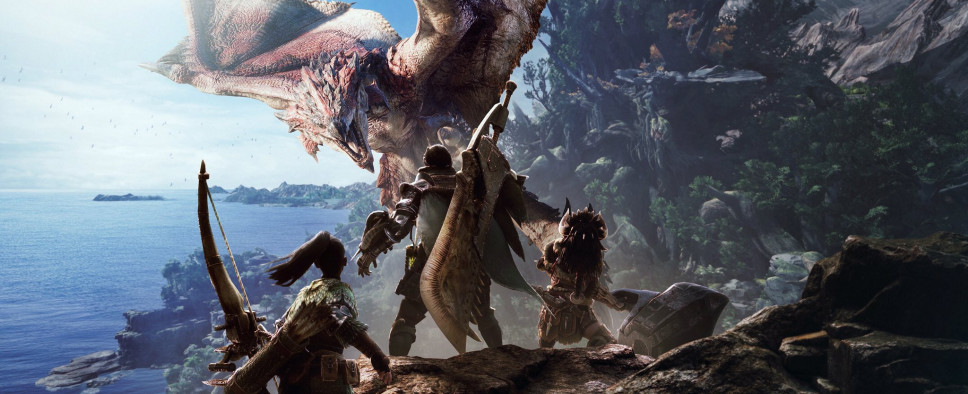 Capcom's co-operative action-RPG Monster Hunter: World has received a new content update that, among the usual quality of life improvements and bug fixes, introduces a new locale serving as the lair for the gilded elder dragon Kulve Taroth and a brand new limited time Siege event. You can check out this developer blog for some additional details or watch the Kulve Taroth introduction video below:
Here's a bit about the Siege event:
Hunters, hope you've been enjoying the nice, relaxing celebration of the Spring Blossom Fest. As that special limited-time event comes to a close, we already have your next big assignment waiting for you: the Siege of Kulve Taroth (available from April 18th until May 3rd)!

With the conclusion of the Zorah Magdaros and Nergigante investigations, the path is now clear for the arrival of the majestic Elder Dragon Kulve Taroth.

We'll let you investigate more details about the new Elder Dragon itself directly, but what little information the Research Commission has gathered indicates we need to deploy a new hunting strategy. Enter the Siege!

Siege is a brand new limited-time quest type which requires the collaborative efforts of all hunters in the same Gathering Hub (which can house up to 16 hunters). Each hunting party will split off into groups of up to four hunters each, but will be working together to investigate and hunt down the same Kulve Taroth.

As each hunting party collects more tracks and breaks off more parts from attacking Kulve Taroth, they'll contribute progress to the same Siege. This new quest type is designed and balanced for multiplayer, so call up your Squadmates, or join up a dedicated Kulve Taroth lobby, and make sure to coordinate with other hunters if you want to earn the best rewards.

The primary goal of this Siege is to repel Kulve Taroth, but its shimmering golden mantle happens to be a collection of shiny weapon relics it has gathered along its journey through the New World. We don't have much information on when and where Kulve Taroth has amassed all these relics, so the nature and quality of these weapons (read: type and stats) are entirely up to fate.

The Smithy, however, is already hard at work coming up with a new armor set to complement these weapons quite nicely. Be sure to pay him a visit after you've gathered enough Kulve Taroth materials.

The first instance of the Kulve Taroth Siege will start on April 18 at 5pm PT / April 19 at 1am BST, along with our second free content update, and will run until May 3 at 5pm PT / May 4 at 1am BST. It will return at a later date, but details are very scarce at the moment, so assemble your Squad to take full advantage of this golden opportunity.
The game's website has the complete patch notes. Here are the major additions and changes:
An Interface menu and an option called HUD/Help Text Size have been added under the Options menu on the title screen. You can now adjust HUD text size to be larger than the default size.
To go along with this new option, the "Subtitle Text Size" option added in PS4 Ver 2.00/Xbox One 2.0.0.0 has been moved from the in-game options menu to the title screen options menu.
A feature to sort investigations has been added to the Manage Investigations screen.
You can now sell all Trade-in Items at once when selling items.
Pressing the Square button on PS4 or X button on Xbox One allows you to switch between the Decoration name and Skill name when setting decorations.
You can now preview armor at the Smithy even with Layered Armor equipped.
An update has been made to squad management so players who haven't logged in for 30 days aren't automatically kicked from the squad.
A tweak has been made so the camera is not forced to follow an active Scoutfly trail when fast traveling or returning to camp after fainting.
You can now cultivate Ivy at Botanical Research.
If a field researcher with important dialogue is present during an Expedition, an exclamation mark (!) will be displayed beside that character's name on the World Map when departing.
The Search Via Play History description text has been reworded to be easier to understand. The function itself has not changed.
Previous: Search for an Online Session that you joined based on your play history.
Now: Search for an Online Session based on your play history.
(Cannot find a previous met player if they've left the Online Session.)
Flash Pod effectiveness against Tempered Monsters will gradually decline after multiple uses, and will cease to have any effect at all after a certain point.
To coincide with the Tempered Monster's increased resistance to flash pods, the special rewards from Tempered Monster Investigations have been reworked to produce better results.
Threat Level 1 Special Rewards will now produce Warped Feystones.
Threat Level 2 Special Rewards will now produce Shining Streamstones.
Threat Level 3 Special Rewards will produce Shining Streamstones more frequently.