Hits: 1329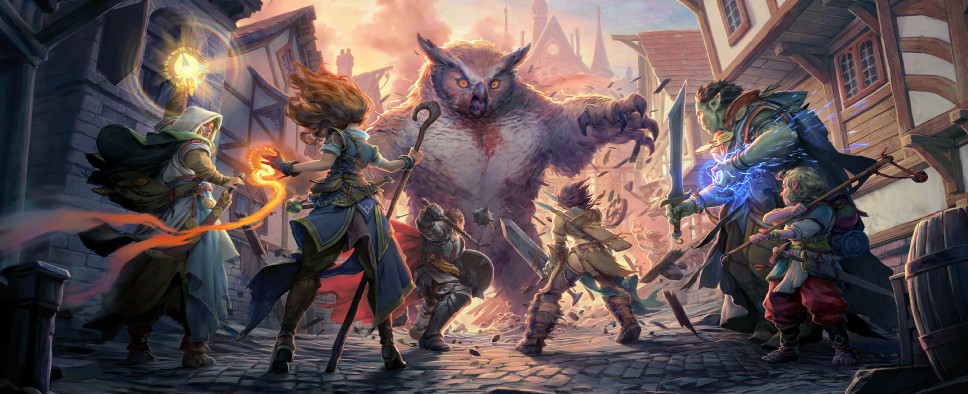 After a period of relative silence from Owlcat Games, the new Kickstarter update for Pathfinder: Kingmaker shares some pretty big news: the first beta for the isometric cRPG will be going live on April 5, 2018, a couple of Paizo's creative higher-ups have jointed Kingmaker's writing team, and we now have a brand new "Features" trailer to gaze upon. The trailer is of particular interest here, as it shows, among other things, how your alignment will affect your kingdom's appearance. Check it out:
And a few snippets from the update:
Teaming up with legendary Paizo writers

As you all know, we really want Pathfinder: Kingmaker to feel like the real thing. We want our game to be as faithful to the source material as possible. We could just give you our interpretation of how adventuring in the Stolen Lands should feel. But how much cooler would it be, if we asked the good folks at Paizo to lend a hand, to contribute and to write for our game?

So that's exactly what we did! Paizo's own Creative Director James L. Sutter and Organized Play Lead Developer John Compton teamed up with our authors to work on Pathfinder: Kingmaker. Here is what they have to say about their experience:

(WARNING: Some spoilers ahead!)

I've been excited about Pathfinder: Kingmaker from the first day I heard about it. As a kid who grew up playing endless hours of Diablo, the Gold Box D&D games, and other classic RPG computer games, I'd always fantasized about working on one. That fantasy only gained steam as we started creating Pathfinder and Golarion back in 2006, as I think all of us couldn't help but imagine what it would be like to one day see our world translated into a video game. So when I heard about Owlcat signing the deal to make Pathfinder: Kingmaker, I was thrilled. When they later approached me about writing for it, I of course jumped at the chance. Be part of the team turning one of my favorite adventure paths into a video game? Work under industry legend Chris Avellone? Sign me the heck up! There was only one problem:

I had absolutely no idea what I was doing.

While I'd written plenty of tabletop game material, and even dialogue for some mobile app games, I'd never actually written for a CRPG like this. I knew nothing about the code tagging involved, or even what software was used. So I found myself in the somewhat awkward position of saying, "I'd love the job! Also, can you teach me how to do the job?"

Fortunately, the developers at Owlcat were kind enough to take me under their furry wing and show me the ropes, teaching me best practices for computer narrative design and how to build out text trees that flow properly without the help of a Game Master. What's more, they let me be shockingly self-indulgent in the subject matter of the quest, pointing me at some of my favorite parts of the canon and then turning me loose. Fey tied to the First World? Check. Meet one of the Eldest? Double check. They even let me incorporate a certain inquisitor of Pharasma, whom you might remember from my Pathfinder Tales novels Death's Heretic and The Redemption Engine... I still shiver at the idea that people are going to actually get to talk to Salim!

But the most surprising part was yet to come. As somebody who's sat in the conductor's seat on projects with a bunch of different teams and freelancers, flexibility is a luxury you can rarely afford. Once everyone's in agreement and the train starts rolling, there are too many people working simultaneously to change direction. Yet as I was talking through my ideas for the side-quest, the Owlcat team shocked me by taking one of them and running with it, with the result that the game now has a whole additional secret ending! All in all, I had a blast working on the game, and after seeing behind the scenes, I'm more excited than ever to play the final version. I hope you are, too. And when you do—tell Salim I said hello! — James L. Sutter

[...]

Beta One is coming!

We have been a little quiet these past few weeks. That's because we've been working very hard on the first beta build. Unfortunately, we are probably not quite making 1st quarter of the year now. Things got delayed a little bit and we're currently looking at the 5th of April for the start of our beta. Sorry for making you wait! We will notify all of you via email, Kickstarter and social media once it starts. Instructions and a list of content of features will be provided, as well. Not much longer now - hang tight!

Also, those among you, who have pledged for physical editions and rewards, can now enter their shipping information on the backer portal.

End of Physical Pre-Orders

Finally, please be aware that our physical pre-orders are coming to an end. We need time to produce all the boxed editions ordered so far to have them ready for launch, so we are going to remove all physical versions from the pre-order store. If you haven't already pledged via Kickstarter or pre-order and still want to support us, you will only be able to do so via orders for a digital version. Thank you very much for your support!