Hits: 571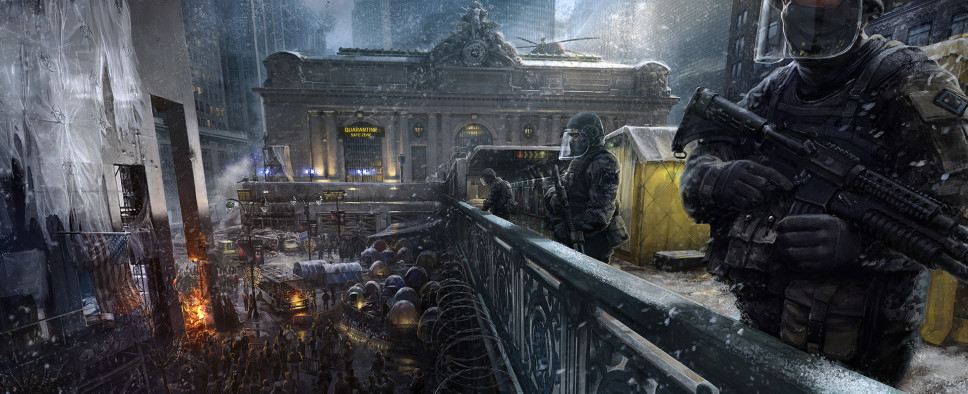 Tom Clancy's The Division should be getting its massive Update 1.8 later today. This free update tightens the game's balance and adds a brand new area, two new game modes, and a bunch of new features and items. Here's the official launch trailer that introduces some of the new features:
If this looks like something up your alley and you don't own the game yet, it will be getting a free weekend from December 7-10, where you'll be able to buy the game at up to 70% off:
You can find the complete patch notes for Update 1.8 on Ubisoft's official forums. A few highlights:
New feature: West Side Pier

West Side Pier is a completely new area accessible for all agents where two new game modes take place: 'Resistance' and 'Skirmish'. In the zones, the enemy factions are teaming up to take the fight to the Division agents.
The West Side Pier map stretches over two named zones: Piers North and Piers South.
A new safe house will be available named Camp Clinton. Camp Clinton will act as a new social hub, similar to the Terminal, for Update 1.8.
West Side Pier features a new dynamic spawning system for enemies, new special assignments, and daily assignments.
West Side Pier Commendations have been added.

New feature: Skirmish

In Skirmish, two teams of four agents compete against each other to get the highest number of kills before the timer expires. Teams earn points each time a downed enemy agent is eliminated.
Agents can start a Skirmish session from the Last Stand matchmaking gate in the Base of Operations or Camp Clinton.
PvP rank (previously called Last Stand rank) cap has been increased from 40 to 99. Last Stand and Skirmish both contribute to this progression.
New PvP rank rewards have been added, including Classified Caches.
Skirmish Commendations have been added.

New feature: Rogue 2.0

The Rogue system in the Dark Zone has been overhauled for Update 1.8.
To go Rogue, the agent needs to toggle their Rogue status before being able to do any damage to friendly agents. Any member of their group can choose to also go Rogue or to leave the group.
Manhunt levels and objectives have been added. Agents reaching Manhunt status will now have an objective to interact with, which will reward Manhunt Caches. Non-Rogue agents will see the general area of the Manhunt objective and will be rewarded for stopping the Manhunt agents.

New feature: Optimization Station

Gear Optimization provides an all new way for agents to invest in their favorite gear and achieve the perfect min-maxed build for their playstyle. Agents can take any of their gear to the new Gear Optimization station and spend Division Tech and Credits to improve the quality of the item's stats towards their cap.

New feature: Resistance

The update introduces a new PvE game mode called 'Resistance' where factions are teaming up for the first time to fight against Division agents. Enemy NPCs continuously spawn in waves as the agents try to survive for as long as they can.
This new PvE game mode takes place in three arenas in West Side Pier.
Agents can start an event from the map or by walking to the arena locations located in West Side Pier and initializing the event from there.
Resistance Commendations have been added.

New feature: Underground changes

The old Directives have been removed and replaced by new ones that bring new gameplay options.

Electro Tech – New electro-tech gives the player vastly reduced cool-down on skills, however a side effect of this experimental technology causes disruption to other electrical systems while a skill is activate.
Adrenal Healing –Agents are granted a constant adrenaline boost, restoring their health, however the extra intake means less frequent use is available for all healing abilities.
Kinetic Armor – Experimental new gear that increases Agents armor as they increase their movement speed. Armor protection is significantly reduced when static.
Compensator – Experimental tech that gives all weapons extra stability when firing down the sights; however due to weight of this tech Agents have decreased ammo capacity.
Shock Ammo - Specially designed magazines allow for permanent shock bullets, but with constant fire this can cause it to be unusable for a short time and potentially shock the Agent.

The Underground will now have checkpoints.
Hunters have been added to the Underground as a random spawn. When they show up, there will always be one more Hunter than there are agents present. Slain Hunters have a chance of dropping Exotics and Classified Gear Sets.
The Rave Room from the End is NY mission has been added to the room rotation.
New Directives panel added to the Tactical Operations Center.
New quick launch options in the Tactical Operations Center for Daily and 3 Phase 5 Directive Operations.
Underground Daily Operations and Weekly Assignment information added to the map.
The Underground has been given weekly assignments, and will reward a Weekly Cache which contains an Exotic.
Rewards have been increased overall in the Underground.
New Underground Commendations have been added.
New Patches have been added as commendation rewards.
Added ability to fast travel to Daily Operations.
Players are now able to match-make for customized operations and for daily operations.