Hits: 1512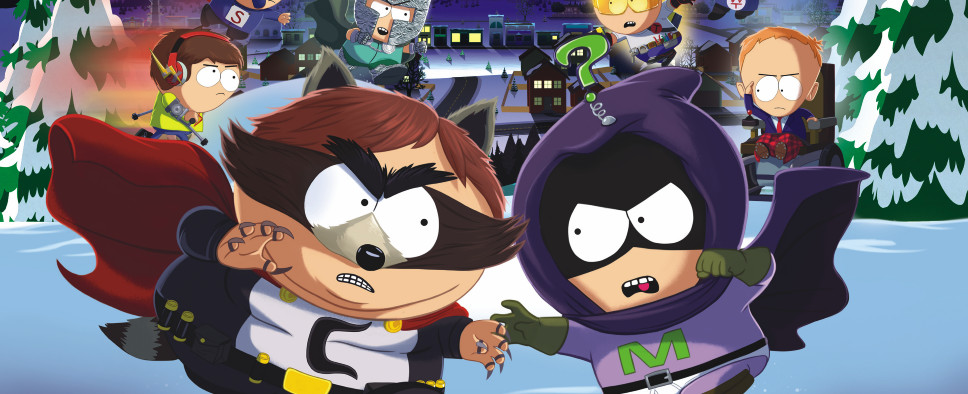 South Park: The Fractured but Whole, Ubisoft's follow-up to Obsidian's The Stick of Truth, is releasing tomorrow, October 17, 2017. And if you're a fan of both South Park and RPGs, you're probably wondering if it's any good. Well, a bunch of reviews for the title have gone up today, and by the looks of it, it's pretty good. The Fractured but Whole's Metacritic score is currently sitting at an 85, the exact overall score The Stick of Truth has, with some reviewers preferring one over the other and vice versa. Here are a few sample reviews:

IGN 8.5/10:
South Park: The Fractured But Whole is another epic-length episode of the humor that's kept fans of the show laughing for 20 years. The Marvel vs DC parody delivers regular laugh-out-loud moments with only a few faltering gags, and the combat soon evolves into something much more complex and interesting than The Stick of Truth's simple system. Navigation and repetition of some of its simple puzzle mechanics drag a little, but it's otherwise an excellent South Park game that's also a strong RPG.
Destructoid 8.5/10:
South Park is partially responsible for raising a subset of a generation of kids that can laugh at anything and that takes no subject too seriously. (Chances are you already know exactly how you feel about the previous sentence.) The Fractured but Whole steps right in line with this mindset. It's all on the table. It's usually funny but sometimes it falls flat, just like the last 20 years of the show. It's not afraid to try, though.

Despite its sometimes uneven writing, The Fractured but Whole is worthy of the highest compliment a game like this could get: It feels like a long, quality episode of South Park. It's an improvement over The Stick of Truth in terms of combat mechanics, ridiculous plot escalation, and amount of content. It's really all that a South Park lover could ask for.

The guy selling tickets at the movie theater flippantly asks every time you see him "Aren't superheroes kinda played out?" As it turns out, not quite yet. Not as far as South Park is concerned, at least.
PCGamesN 8/10:
The Fractured But Whole is a better RPG than Obsidian's original effort in almost every way: everything you do counts towards increasing the power of your party. It's hard not to find watching the numbers tick up addictive. That said, multiple sets of collectibles and progress trackers threaten to get a touch out of hand. Perhaps it is a comment on smartphone culture and wearables tracking every moment of our lives, but between the action-packed main missions, it can feel like padding.

Where it does not falter, as with The Stick of Truth, is in how the game nails the spirit of the TV show as if to feel like a feature-length entry into the series. On top of that, the excellent and refreshed combat system and the complex coexistence of new RPG systems mean The Fractured But Whole renders its predecessor entirely forgettable. If it was once The Avengers, now it is Batman vs Superman.

TV show stalwarts should breathe easily and those on the fence about the game's penchant for outrageous humour to definitely give it a go for the sake of its fantastic gameplay. However, if South Park has never been to your taste, The Fractured But Whole makes no attempt to change that.
Eurogamer Scoreless:
South Park: The Fractured But Whole is an RPG with tangible qualities and enjoyable passages, but without the bite or imagination you'd expect of the name. For anyone who grew up with the TV show, there's still some thrill to be had in simply walking around that familiar town, rubbing shoulders with its famous denizens and savouring the feeling of having an episode play out around you. But these were qualities of the last game too, and they have that bit less impact the second time around. Ubisoft San Francisco's rebuilt combat system goes some way to push back the sense of deja vu, but it entirely can't shake off the suspicion that this is a sequel which exists because its predecessor was so popular, not because its creators were brimming with more ideas.
WCCFTech 9/10:
By RPG standards, The Fractured but Whole is a bit on the shorter side but still clocks in around what The Stick of Truth took me for a Platinum trophy. By the time South Park was finally freed from the terrors of villainy, I had spent somewhere between twenty-five and thirty hours to finish nearly every side quest hidden throughout the town. One of the trophies required playing through as a Black Mastermind (Mastermind being the difficulty and race being a character customization perk that shows up partway through the game) that required more time spent grinding up artifact slots and playing much more conservatively. The hardest difficulty feels well-tuned for RPG veterans and would be my preferred recommendation if you're willing to invest the time to build a heroic team with synergies.

Would I recommend The Fractured but Whole to someone that's a longtime fan of South Park? Absolutely. The entire town is filled with pop culture references and little winks and nods to even the less notable events in the show's history. Thanks to Ubisoft's Snowdrop engine and the creative teams putting it to use, The Fractured but Whole captures the look and feel of the TV show right down to the most minute details. This is South Park at its most crude, yet the make-believe superheroes and roleplaying combat transcend genres to create a masterwork experience that's an absolute gas to play.
GameSpot 8/10:
Much like The Stick of Truth, The Fractured But Whole can be appreciated as a standalone adventure, accessible to those who've fallen off the TV series over a decade ago. Fans who have kept up will appreciate the handful of recent call backs to the show plus at least one timely spoof that creators Trey Parker and Matt Stone previous said they would not tackle. And if there's one aspect of the show that hasn't changed in its 20-plus years, it is the endearing qualities of the kids' reality-breaking imaginations. This is best exemplified in the classic pronouncement that the floor is lava, which is represented by initially impassible red building blocks strewn throughout the town.

Fractured But Whole succeeds as an interactive South Park mini-series, while effectively emulating the show's current style of adult-targeted entertainment and satirization of political correctness. In other words, it's consistently amusing and provocative without the edginess the series used to be known for. Both the game's combat and explorative strengths effectively bridge the many comical plot developments, which range from mildly amusing to downright hilarious. It's an accomplishment that this game will wholly entertain devoted fans while delivering a heap of jokes that won't fly over the heads of casual viewers.
Polygon 7/10:
At the beginning of this review, I outed myself as someone who's not a huge South Park fan, but I've watched enough of the show to understand that this is its modus operandi. It foregrounds loud, over-the-top, "edgy" humor, and it backgrounds surprisingly thoughtful character arcs. South Park: The Fractured But Whole matches the show's strange mix of intentions; it is totally aligned in that way. And in that way, it provided the perfect reminder for why the show (and, to a lesser extent, this game) aren't for me.

The Fractured But Whole's breezy combat and puzzles provided a few days of entertainment, and the best moments of the game had me either laughing or, against all expectations, emotionally touched. I don't particularly regret my time with the game, but it mostly made me think about how much better the creators of both South Park and The Fractured But Whole could do if they were given the opportunity and space to grow up a little.
USgamer 4/5:
Like Stick of Truth before it, South Park: The Fractured but Whole plays like an episode of the show. One of the good episodes, mind you, that's more about the kids interacting with each other than politics. Though it drags at times, The Fractured but Whole carries a sweet, twisted charm that makes it hard to resist if you're similarly twisted. It's still not recommended for anyone who never found the show funny to begin with, though.
Twinfinite 4/5:
Despite some noticeable issues, South Park: The Fractured But Whole is a must-play for fans of South Park. There's no experience like playing through a massive episode of South Park where the hero of the story is you. The superhero angle really lands, and is an excellent wrapping for the story this time around. It's obviously not going to be for everyone, and while the combat is great, it's not revolutionary enough to convince someone that despises South Park to set it on mute and play it anyway. That said, there aren't going to be that many people that are on the fence with a game like this. If you watch South Park and like video games, than the Fractured But Whole should is a no-brainer pick up.