Hits: 1303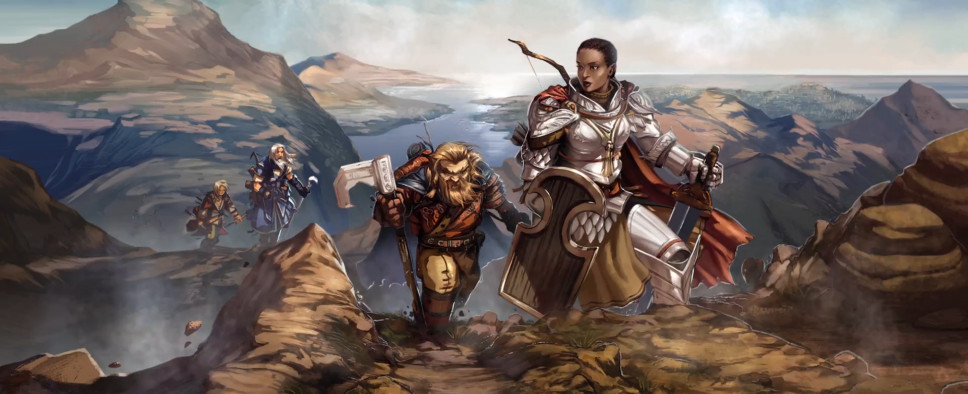 Obsidian Entertainment keeps working on Pathfinder Adventures, their digital card game, and this time around they bring us a new patch and DLC, entitled A Fighter's Tale: Valeros. The DLC introduces five new scenarios, a new storyline, character, and 30 new cards, and costs $4.99 or your regional equivalent, with a launch week discount that lowers the price to $2.99. The DLC is available on iOS, Android, and Steam.

A few paragraphs about the new content:
IRVINE, California - Sept. 26, 2017 - Asmodee Digital, leaders in digital board game entertainment, and Obsidian Entertainment, masters in narrative storytelling in RPGs, today announced new content for Pathfinder Adventures, the digital version of the award-winning card-based RPG. "A Fighter's Tale: Valeros" is available now, for a one-week launch discount of $2.99 and then for $4.99 on iOS, Android and Steam.

The Pathfinder Adventures soundtrack is also available today for $1.99. Players can download the game's iconic tunes from all major digital music providers, including Apple iTunes.

A Fighter's Tale: Valeros features five new scenarios, including new storyline details on Valeros' past, now coming back to haunt him. The DLC also features a new character, Tontelizi, 30 new cards (usable in Rise of the Runelords), and five new reward items specifically tailored to be used by Valeros.

Taking feedback from the community as always, in-game pricing has also been revised to the advantage of the players.
And here's a more detailed breakdown and the patch notes for the latest Patch v1.2.8 from the Obsidian forums:
A Fighter's Tale: Valeros includes:

Access to Valeros (and his alt) on mobile platforms
5 new scenarios
1 new character
Tontelizi the Gnome Fighter
26 new cards
5 Villains
4 Henchmen
1 Monster
3 Allies
2 Armor
5 items
3 Spells
3 Weapons
4 new locations

Tontelizi
Gnome Fighter

Hand size: 4 upgradable to 6
Proficiency: Light & Heavy Armor and Weapons on start
Powers:

Teamwork

Add 1d4 to a combat check by another character at your location.

Polearm Mastery

When you would discard a weapon that has the Polearm trait for its power, you may recharge it instead.

Starting Cards:

5 Weapons
3 Armor
2 items
2 Allies
3 Blessings

Top Community Issues

These are issues you have all helped to bring to our attention. We can't thank you enough for your feedback on the game! These issues have been the most discussed here on the forum and these, along with many more, will be fixed when 1.2.8 goes live!

Rune of Wealth: Fixed an issue where the Rune of Wealth was not awarding double gold for certain scenario rewards.
iOS: Fixed an issue with iOS devices having difficulty playing music when using certain versions of iOS.

Other Fixes

Here's the list of other fixes we've addressed in this patch, broken down by type!

Progression Breaks

Spyglass (Charm): Resolved a possible progression break that could occur if using the Spyglass charm
Dare or Dare: Fixed a Progression break with the Dare or Dare scenario in the Goblin campaign using Lini or Harsk.
Rimeskull: A progression break when playing Rimeskull on Legendary has been fixed.
Rewards: Fixed a progression break when Goblin characters received certain after scenario rewards.
Skills Screen: Fixed a progression break when selecting a skill feat in certain circumstances.

UI

Poog of Zarongel: Fixed a small typo in the card text
UI: Fixed bugs that were causing spacing issue with the UI
Cutscenes: Fixed a bug that caused certain cutscenes to be skipped.
Rune of Wonder: Fixed an issue with the animation firing for Rune of Wonder when it was inactive.
UI: Fixed multiple issues with framing and layering
Cutscenes: Fixed an issue where specific cutscenes were not firing with certain party compositions
Completion Tab: Fixed multiple issues with the completion tab misreporting scenarios being completed in certain situations
Buttons: Fixed an issue with a certain button returning the user to the main menu errantly
Challenges: Fixed a bug where daily challenges were not able to be awarded more than once causing the user to not be able to complete it.
Card art: Fixed an issue with certain cards in the goblin campaign using incorrect art assets.

Vault/Gallery/Stash

Stash: Fixed a bug that would allow the player to duplicate cards.
Stash: Fixed a bug that would lead to players being unable to progress past the stash due to lack of cards.
Stash/Character select: We now stream in the cards and characters to help the performance of lower end devices.

Rewards

Legendary Card Reward: Fixed an issue that was not awarding Legendary Card and gold rewards.

Store

Added: The new character: Tontelizi with purchase of "A Fighter's Tale: Valeros" Adventure
Price Changes (iOS/Android): Includes all dice being purchasable in a combined Master Bundle
Characters: Fixed issues regarding characters showing information incorrectly
Purchasing: Fixed an issue with canceling a purchase made outside of the store

Achievements

Steam: Fixed an issue with steam achievements being awarded errantly
Achievements: Added achievements for the new Fighter's Tale: Valeros and Rise of the Goblins adventures.

Account Merging

Save Files: Fixed an issue with goblin campaign saves not transferring over due to limitations of the Rise of the Runelords campaign saves.
Characters: Fixed an issue with characters being deleted when merging accounts under certain circumstances.
Some additional information about the abovementioned price changes can be found here.