Hits: 1726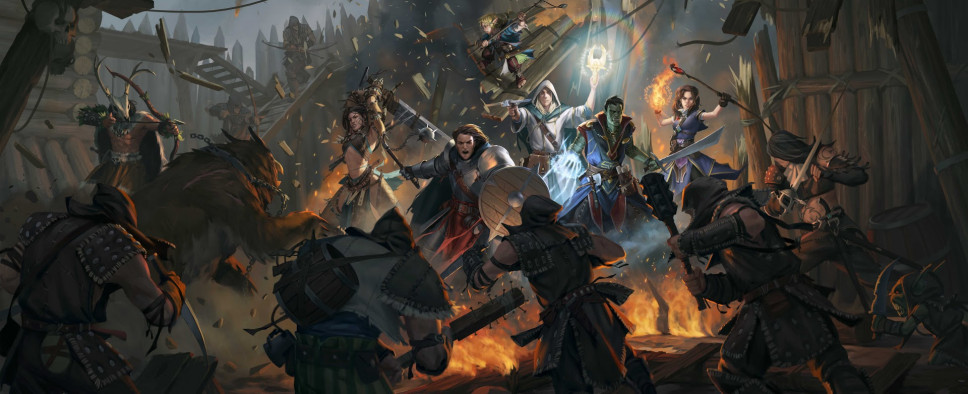 For years now, I've seen people asking for a proper Pathfinder CRPG, and it seems that they're finally in luck. After some earlier teasing by Chris Avellone, Pathfinder: Kingmaker has officially been announced by Russian studio Owlcat Games.

The game promises to be an isometric party-based CRPG, and is being developed by a variety of ex-Nival Interactive designers who worked on such titles as Rage of Mages II, Evil Islands, Etherlords, and Silent Storm. Of course, Chris Avellone will also be working alongside them as a narrative designer, has his previous tweet suggested.

We'll have to wait and see what comes out of this endeavor, but for now, there's a press release to dig into:
Owlcat Games studio is proud to unveil it is developing Pathfinder: Kingmaker – the very first isometric computer RPG based on the highly popular Pathfinder Roleplaying Game. Additionally, helping shape the game's narrative is Chris Avellone, who has worked on a variety of RPGs over the years, including Fallout 2, Fallout: New Vegas, Planescape: Torment, Neverwinter Nights 2, and Star Wars: Knights of the Old Republic II.

Pathfinder: Kingmaker will take players on a tour through the infamous Stolen Lands, the dangerous and turbulent territories well known within Pathfinder fandom. The computer RPG will revisit familiar characters and well-known locations of the series' lore as well as treat players to brand new adventures, deadly foes and unforeseen twists and turns. Fans of the fantasy pen-and-paper RPG will experience its epic, heroic universe in new ways while computer RPG gamers will discover their favorite genre in a more contemporary light.

"I'm a Paizo fan, and a Pathfinder fan. I like the setting, the art style, the adventure paths, the card game, and the iconic characters. I've enjoyed playing Pathfinder with my friends (we used to be part of an Ocean's-11 style game), and I've enjoyed the comics, the world, and the overall setting," said Chris Avellone."I'm excited by the prospect of bringing Pathfinder to the computer RPG world, and hope gamers will enjoy playing in the Pathfinder universe."

Owlcat Games is working very closely with Paizo Inc., the company behind the world-famous pen-and-paper RPG, to ensure a truthful digital adaptation of Golarion.

"I am very excited to be working with Owlcat Games on the first computer RPG for Pathfinder," said Lisa Stevens, Paizo CEO. "Kingmaker is one of my all time favorite Pathfinder Adventure Paths, and from what we've seen from Owlcat Games, it is in good hands and promises to be an amazing addition to the computer RPG field."

Pathfinder: Kingmaker will challenge players as both adventurers and rulers as they will be able to claim explored lands and carve their own kingdom from the wilderness. Kingdom founding will go beyond simple stronghold-building to become a true reflection of the hero's character and choices made throughout the game. Each kingdom will be a living thing shaped by alignment, choices, allies and the hero's ability to lead his or her people.

Owlcat Games is excited to show its unique ideas for Pathfinder: Kingmaker during PaizoCon 2017 this month in Seattle. For more details about Pathfinder: Kingmaker, please visit the project's official site: www.owlcatgames.com
And a feature list:
JOURNEY TO THE STOLEN LANDS
Welcome to the Stolen Lands, contested territory for centuries. Defend yourself against the threats of wilderness and rival kingdoms as you explore a world rich with history, magic, and conflict.

COMPANION FOCUSED STORY
Experience the adventure alongside living and breathing companions, each with deep stories and decisions of their own. Love them, adore them or hate them for who they are.

CHARACTER DEVELOPMENT
Customize your character and companions with a multitude of options available in Pathfinder to make the perfect party capable of overcoming insurmountable challenges.

KINGDOM
Establish your kingdom in Stolen Lands, claim new territories, and build towns and cities. Be a wise ruler or a heavy-handed tyrant.