Hits: 1115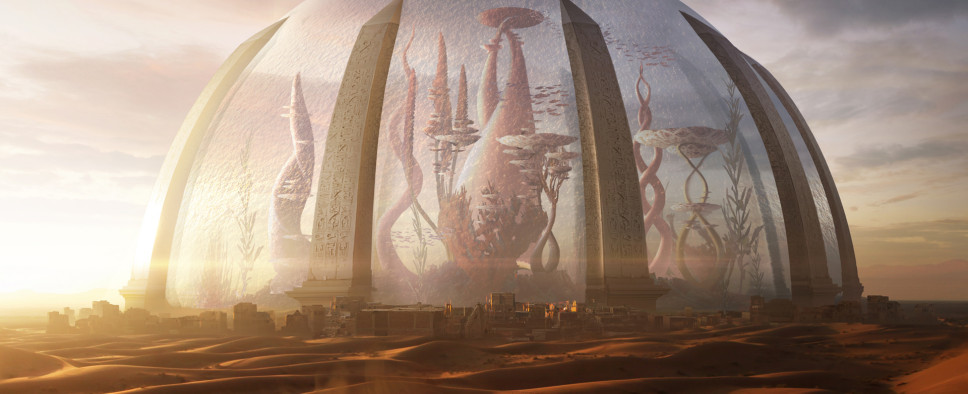 The latest post-funding Kickstarter update for InXile's Torment: Tides of Numenera informs us that some of the previously cut content is now back in the game. In particular, the Voluminous Codex lore compendium, and Oom, the blob companion.

The update is live on Steam and should be coming to GOG and consoles soon, and along with the new content it fixes a fair share of issues. You can read the full changelog on the official website, but here are the highlights:
New Companion: Oom. Oom is a new stretch goal character who you will discover on your journey through the Ninth World. Oom features its own companion quest, "Servant of the Tides", its own unique abilities for use in combat and exploration, and interactions with various characters throughout the game.
Added the Voluminous Codex. This new stretch goal feature unlocks lore and character entries as you explore the game world.
Added a new user interface element to the Inventory Screen which makes it easier to view companion attitudes toward the Last Castoff.
Added a new user interface element to the Common Panel which better messages the Last Castoff's current Legacy.
Players can now advance to Tier 5 and Tier 6, allowing players to spend their Experience Points more in the later game. This also allows the Last Castoff to gain abilities from other character types.
Various balance improvements to Crisis gameplay throughout the game.
Various balance improvements to exploration gameplay, especially in the later stages of the game.
Added zoom in/out key binding to the Options Menu. This allows players without mouse wheels to remap the zoom functions.
Cypher Sickness initialization is now delayed until after Equipment initialization. This should prevent issues where loading a save file where equipment was preventing a cypher explosion would cause input to freeze up (fix may not be retroactive).
Remove all non-gameplay Fettles from companions when they're removed from the party. This should prevent certain freezes from occurring.
Numerous small UI fixes.
Numerous small quest fixes.

This update is now out on Steam, and we'll be getting it to GOG and other stores as soon as possible. Our strong recommendation is to start a brand-new playthrough to experience these improvements, as the new content is best experienced from the start of the game (and Oom must be added to the party during Sagus Cliffs).
And a thing or two about Oom:
Early during the Kickstarter campaign for Torment, we introduced Oom to you as "The Toy", a new stretch goal companion by design lead Adam Heine and Brian Mitsoda (Dead State, Vampire: The Masquerade – Bloodlines). While this companion didn't make it into the initial release of the game, we're bringing it back in our latest update.

Back when we pitched the idea of Oom, it was described as:

The Toy is a changing ball of goo: Is it a pet, an abandoned toy, a dangerous weapon? Whatever it is, it responds to the way you treat it by changing its appearance and abilities to reflect what it perceives as your desires. Its ultimate secrets are... well, you'll have to find out.

Now that we've received the opportunity to complete Oom, we went back to these ideas, as well as much of the original writing by Brian Mitsoda. We wanted to make sure that Oom was true to the vision proposed early on... but of course, as many of those ideas were thought up prior to us knowing Torment's final game mechanics and storyline, we also wanted to make sure that Oom would integrate well into the game as it is today.

Here is senior writer Gavin Jurgens-Fyhrie's take on Oom:

Oom is a living artifact from a prior world, and extraordinarily loyal to you. A shape-changer and guardian, it is somehow connected to the Tides, and it grants the Last Castoff a deeper connection to them.

It is also a mystery to be solved. Oom does not speak, and even its thoughts are a strange tangle of alien metaphors. It will drive you to increase your understanding of the Tides, and by doing so, you will learn secrets about its long, long past...

Oom is unlike any of the other companions in Torment. For one, Oom is – to use a technical term – a blob of goop, a piece of the numenera left over from a past civilization that has faded into the darkness of history.

If you discover Oom during your game, then it may become a member of your party. Just like the other Torment companions, it has its own quest and storyline you will uncover throughout the game, it can assist you with challenges and in Crisis gameplay, and it will react to the world around you and the characters you meet.