Hits: 415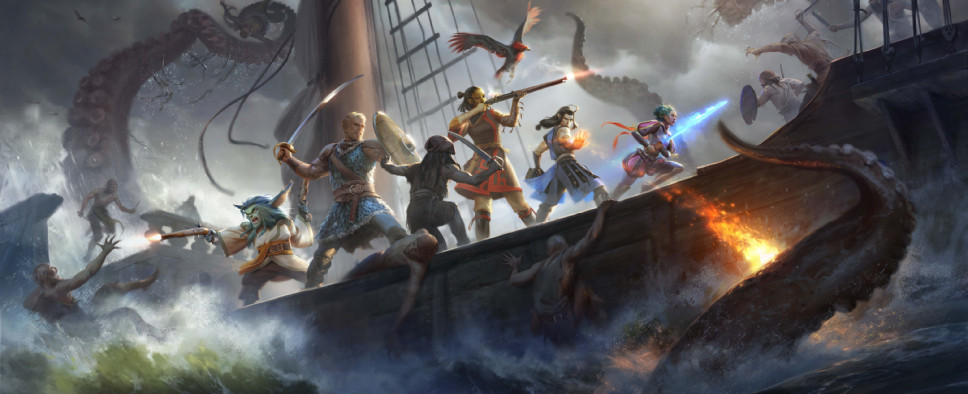 Companies involved in crowdfunding are starting to realize that transparency during development is an important part of the whole arrangement. So, the latest Fig update for Pillars of Eternity II: Deadfire describes the current state of the project. Have a look:
Character Art and Animation

All of our godlike races have been completed by the character artists! More importantly, all of our races and genders are now implemented into Pillars II. Our most recent completed race is the Moon Godlike

Environment Art

Our Lead Artist, Kaz Aruga, is experimenting with color correction passes in Maya to make our scenes feel more vibrant.

Programming, and New Cloth Physics!

In Pillars of Eternity II: Deadfire we've upgraded to a new cloth solution for capes, robes and other garments using the cloth physics in Unity 5. The improved pipeline lets us add more cloth items to the game, as well as have good cloth simulation across all platforms - including Mac and Linux. Great! Well... it wasn't all great... Game development is never easy, and there's always a problem or an unforeseen issue. And with our new cloth, we soon ran into a problem with it, as we couldn't get it to work on our full-screen paper-doll characters that are shown in our Inventory, Character Creation, and Level-up UI. As we implemented capes, we found that Unity only has one physics "world", and our paper-doll characters exist in a separate scene from the rest of the game - but they share the same world as the rest of the game. When the game world is paused, the cloth sim in paper-doll would be paused as well, completely still and non-animate. We couldn't find a way around it. This was unacceptable of course, and we needed to find a solution. Our solution sounds crazy, but the only choice we had was to write our own cloth simulation for paper-doll. Thankfully, it didn't have to be as efficient or fancy as Unity cloth, as we only show a single character in paper-doll. Our solution uses a simple verlet-physics sim to get a stable physics simulation that was is fast and was easy to implement. The results are shown on a Vithrack character - hopefully you can agree that the simulation looks close-enough. In addition, we are exploring leveraging this system for flails and other dynamic simulations too!

VFX

The VFX team continues their work on abilities and areas for this milestone. Because we have so many unique abilities, the VFX team is spending the majority of this milestone implementing ability effects and getting them to look awesome.

The ability shown below is called Minoletta's Missile Salvo. With this ability, the wizard braces to launch a series of missiles at the target over 4 seconds. The missiles do force damage and cause reflex shockwaves.

Overall

We're continuing forward at a fast pace and getting a lot done, but we still have a lot of functionality to implement over the next few months. The overall structure of Pillars II is starting to take shape. Areas and quests are beginning to flow more smoothly, more quests are implemented every week, and the text from our narrative designers has already immersed us in our journey back to Eora.