Hits: 1407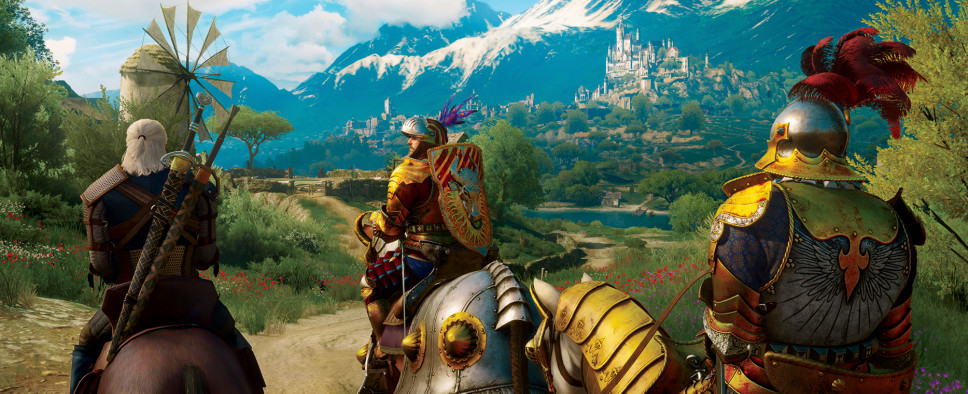 Quite a few new reviews are in for Blood and Wine, the add-on that concludes our time with The Witcher 3: Wild Hunt and potentially serves as a final send-off for one of our favorite protagonists of all time, Geralt of Rivia.

The Escapist gives it a 5/5:
Blood and Wine is not the grand, epic, Wild Hunt adventure, or even Hearts of Stone's dramatic "deal with the devil". At first glance, it's simply another chapter in Geralt's life, but when you look harder you realise that that's precisely why it shines. Not everything in Geralt's life involves some cosmic calamity coming to end all life as we know it. Sometimes he just gets swept up in a wacky fairytale land of knights and princesses and vampires. Best of all, in a very Deadpool-y way, Geralt is perfectly aware of how ridiculous his life is. Blood and Wine may not be the deepest, most meaningful Witcher content I have played, but having one final, light-hearted adventure with everyone's favourite grumpy old monster hunter is the best way to say goodbye to Geralt of Rivea.

VG247 goes scoreless:
Other people live in this world; other people have goals and motivations and feelings. They don't exist to enable Geralt; they don't exist to frame his experiences. He affects them, perhaps in profound ways, and even despite the dulling of his emotional responses due to Witcher mutations, he is affected in turn (as are we, hopefully). He moves through their lives and out again; and there's a sense that their lives go on without him.

Kotaku goes scoreless, too:
Blood and Wine is equal parts triumphant and somber, a reminder of all the great times we've had with Geralt and some of the shitty things we've done in his shoes. It's about facing down the totality of Geralt's in-game legacy and—instead of regretting or redoing it—coming to terms with it. Toussaint in all its colorful silliness might seem like an odd place to end Geralt's grim tale, but looking back on it all, I think I get it. He's a lone hunter, an outcast who drifts in and out of people's lives. He's spent the past year drifting in and out of mine, there when I need him, forgotten when something new and shiny comes out. You'd think that the only real end awaiting him would be a lonely one—fearful people ganging up on him, a fatal mistake in battle, or a monster that's a bit too fast or powerful—and maybe it still is. But after all the time we've spent coming to know and love this guy, why end on that?

Stuff gives it a 5/5:
With over 20 hours of gameplay for The Witcher aficionados to delve into and up to 5-10 more if you dally with the side quests, B&W is a DLC generous package. Even at double the price of HoS, it's undoubtedly worth £16 of your hard-earned cash and is by far the more essential of the two. It's a big, bold and bright end to the gloomy but brilliant game and a new benchmark for expansion packs everywhere.

Metro gives it an 8/10:
But if Blood And Wine doesn't revolutionise the concept of DLC, by drastically changing the nature of the main game, that's hardly much of a criticism. In fact, it's entirely in keeping with The Witcher 3, which rather than owing its success to doing things markedly differently to its peers has instead won its fame simply by doing them better. Geralt and his world will be missed, but Blood And Wine is a fittingly lavish goodbye party.

PCWorld takes the scoreless approach:
What's the saying? "Old witchers never die, they just fade away." Something like that. One thing's for certain: The Witcher 3 is one of the best RPGs I've ever played, and Blood and Wine is a fitting capstone not only on it but on the whole series. I'll miss it.

GameWatcher gives it a 9.5/10:
If there's anything bad to be said about Blood and Wine, it's that the Witcher 3 is already such a giant, expansive game that even now, a year later, you probably haven't explored everything it has to offer. CD Projekt has built a genuinely special game and spent a year supporting it with substantial, affordable expansions. But talking about how consumer-friendly the DLC plan has been is far too mercenary a way to discuss a game so filled with vibrant characters and endearing stories. Blood and Wine is an incredible send-off for an excellent game.

HardcoreGamer gives it a 4.5/5:
Our review of Hearts of Stone mentioned that it was a shining example of how to create meaningful downloadable content, and yet Blood and Wine manages to top it in nearly every way imaginable. From a deceptively deep and emotional main narrative to a number of mechanical additions that make playing as Geralt even more of a blast, CD Projekt Red has truly outdone itself here. It's difficult to think of any reason for those who enjoyed The Witcher 3 proper to pass at the chance to explore the beautiful region of Toussaint. The sheer amount of environmental and mission variety alone is justification enough to plop down the price of entry and regain control of everyone's favorite silver-haired monster hunter, yet Blood and Wine amounts to oh so much more. Perhaps most importantly, it's going to be really difficult for open-world games in the future to dribble out downloadable filler content, à la Batman: Arkham Knight, in a world where something as brilliant as Blood and Wine exists. If you're looking for a clear-cut example of how to do DLC right, look no further.

GamingBolt gives it a 9/10:
The Witcher 3's final expansion pack benefits greatly from leaving behind the original game's general feeling of melancholy and doom and gloom, and embraces its new ebullient atmosphere in the most wonderful way possible. It's the perfect sendoff for The Witcher as we know it, and if this is Geralt's final foray in this celebrated RPG franchise, then we as fans can all be satisfied with his send-off.

Attack of the Fanboy gives it a 4.5/5:
Blood and Wine feels like it was made as a loving goodbye to both Geralt and the Witcher series in general, as there's so much attention to detail that it's impossible not to regularly be in awe of it all. It's the perfect bow on a game that has been nothing short of a gift that keeps on giving, and I expect it will continuing doing just that for all who fancy an adventure with a certain Witcher.

TechRaptor gives it a 9/10:
It's sad to see the likely end of CD Projekt RED's Witcher series. Not being able to look forward to more content in the stunningly detailed world of the Witcher 3 is certainly tragic for any fan out there. I've never liked this saying, nor given it much merit, but this is the first time I truly understand when people say they're jealous of others experiencing some book, game, movie, etc. for the first time. Blood and Wine did wonders to add to that feeling and is a more than adequate send-off for the series. As CD Projekt RED showed how to do an open-world RPG by establishing Wild Hunt, they've shown how expansions and DLC should be handled as well.

Brash Games gives it an 8/10:
In an era full of overpriced, overwrought DLC, Witcher 3's expansion Blood and Wine is certainly a shining example of the practice being done near flawlessly. When countless add-on levels are churned out that aren't worth your time or effort, CD Projekt Red has crafted something that feels more like it's own game and should make you want to return to something you might have put down months ago. It's new world is breathtaking and replete with quests and interesting characters that make's adventures feel alive and authentic. Geralt of Rivia is not an aristocratic like those he works for, but is a nobleman none the less and with Blood and Wine we've been given an exemplary final chapter to his story.

Analog Addiction gives it a 9.0/10:
The Witcher 3: Blood and Wine is a terrific expansion, and a wonderful way to send off franchise protagonist Geralt. Blood and Wine is more Witcher 3, and that's great. The storytelling is superb, with an entertaining main story and side missions and the gameplay is still amazing. The world of Toussaint is visually stunning and it makes Blood and Wine feel like a stand-alone experience. The new mutations system creates more opportunities to craft the perfect Geralt, and upgrading the vineyard is a cool way to spend your coin. The Witcher 3: Blood and Wine is the perfect way to end Geralt's journey, and a prime example of how to create a worthwhile expansion.

TrustedReviews gives it a 4.5/5:
Blood & Wine is an experience that is truly bittersweet. This is the hallmark of a studio at its peak, wholly confident and with nothing left to prove, but also still committed to delivering an expansion that's more generous with its content than some full games – and which is good enough to be a Game of the Year contender in its own right.

And We Got This Covered gives it a 4.5/5:
In a time where an expansion pack is regularly nothing more than a new map or a couple of character gadgets, The Witcher 3: Wild Hunt - Blood and Wine brings us something hearty and filling enough to prove that there's hope for DLC yet. Geralt's adventure in stunning Toussaint is an absolute triumph.