Hits: 1531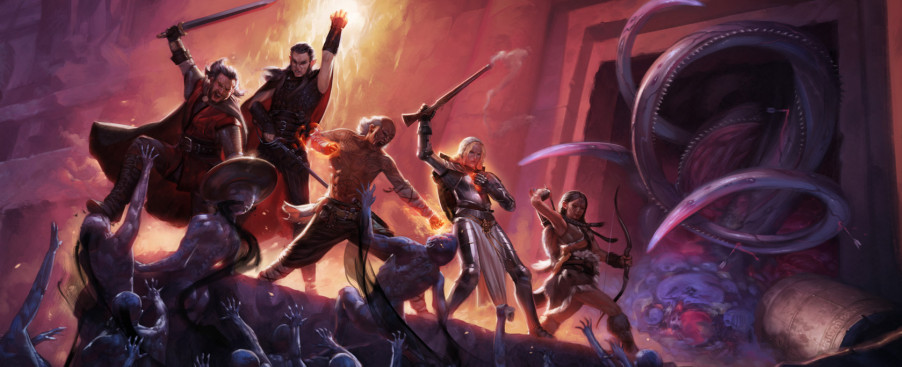 The latest post-funding update for Obsidian's Pillars of Eternity deals with the front line classes, the fighter and the barbarian, and gives us a description of their usual role in combat and some of their abilities. The update also includes a new portrait, a photo from Obsidian's E3 hands-off presentation for the press and a link to some of the previews that were based on it (here at GameBanshee we did a much more thorough job at rounding up those, though). Here's a snippet:
If one of Pillars of Eternity's eleven classes is the rock (we'll skip the obvious "pillar" joke), it's the fighter. All across Eora, fighters are known for their discipline, skill, and durability. In the Eastern Reach, they are often employed as caravan guards, soldiers, and personal bodyguards. Accustomed as they are to long marches, strange places, and life on the road, all fighters gain a minor skill bonus to Athletics, Lore, and Survival.

In combat, fighters are steadfast and stalwart. Even novice fighters enjoy the highest base Deflection defense of any class and the ability to passively recover a small amount of Stamina every second. As the levels rise, fighters gain access to weapon specialization, modestly increasing their overall damage for all weapons in a specific category. These categories are broader than they were in the Infinity Engine games. E.g. the Knight category covers battle axes, swords, morning stars, crossbows, and war bows. The Peasant category includes hatchets, spears, quarterstaves, hunting bows, and blunderbusses. The selections are designed to cover a variety of damage types, to include one- and two-handed options, and to always feature at least one ranged weapon. At even higher levels, fighters gain abilities to recover Stamina immediately after being wounded, to protect nearby allies from incoming attacks, to knock down groups of enemies, and even to yank enemy passersby into the fray. Overall, fighters are designed to be low-maintenance, reliable, and long-lived even in marathon battles. Here are more detailed descriptions of some of the fighters' abilities:



Defender (Modal) - Allows the fighter to trigger Melee Engagement on up to three enemies and increases the fighter's Deflection. While active, the fighter's attack rate is reduced.
Vigorous Defense (Active) - Dramatically increases all defenses for the fighter for a short period of time. 1/encounter.
Unbending (Active) - For a moderate time, the fighter will recover 50% of lost Stamina from an attack over the 5 seconds following it. This has no effect on the amount of Health lost and does not prevent the fighter from being knocked unconscious from a temporary dip in Stamina from a strong attack. 3/rest.
Confident Aim - 20% of a fighter's Grazes are converted to Hits. Additionally, the minimum damage for any melee weapon they use is increased by 25% of the range between the minimum and maximum.
Critical Defense - 20% of all incoming Crits against a fighter are converted to Hits.
Crippling Guard - When a fighter Hits or Crits with a Disengagement Attack, the target is automatically Hobbled for a brief duration.
Unbroken (Active) - This ability can only be activated when the fighter is at 0 Stamina. When used, the fighter will stand back up with 50% of her Stamina. For a short while, her defenses and Damage Threshold are both increased. 1/rest.